Secure Your Home with Energy-Efficient Steel-Insulated Entry Doors from Arrow 2000
What's inside your home's doors?
Steel-insulated doors are an especially secure choice for home entryways. A high-quality steel door can quickly become one of your home's most attractive features. However, your door needs to fit in with the rest of your property; you need a well-constructed product from a reputable supplier.
Arrow 2000 offers an array of the most attractive, energy-efficient steel-insulated doors available. Our products are custom manufactured in a range of colours and styles, and we work closely with our clients to create gorgeous results. All of our doors feature professional finishes that avoid the hard, metallic look of traditional metal doors while still retaining the considerable benefits of steel construction.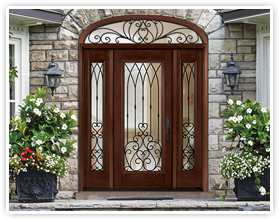 Your property's entryway is one of its most important attributes, and a gorgeous steel-insulated door from Arrow 2000 can provide an outstanding return on your investment. Our style experts are ready to get started, and from solid executive panels to decorative glass inserts, we offer a wide range of stylish options to help you build the perfect door for your home.
How can we help?
Call us at (416) 741-7070 or visit our showroom today to schedule a consultation.