Add a Stunning New Addition to Your Home With a Porch Enclosure or Sunroom
Everyone loves fresh air and natural light. But bugs, bad weather and other distractions can ruin your home's outdoor areas.
Custom porch enclosures and sunrooms let you enjoy the outdoors in any weather,
and Arrow 2000 offers an array of custom options for Ontario homes.
Because we create custom designs for each property, we deliver an incredible finish for every project.
We emphasize quality, and our aluminum and vinyl materials provide years of dependable service. Each energy-efficient enclosure is carefully constructed to create a comfortable space that optimizes the value of your property by adding a gorgeous (and highly functional) feature.
Some of the advantages of our porch enclosures and sunrooms: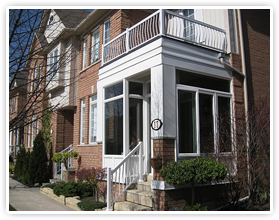 Quality Aluminum and Vinyl Materials for Long-Term Beauty
Superior Energy Efficiency and Full Functionality
Stylish Designs and Endless Customization Options
Greenhouse-Style Ceilings and Floor-to-Ceiling Windows
Affordable for Every Type of Property
At Arrow 2000, we hold our services to exceptionally high standards. Our team will work with you throughout the design process to deliver an attractive, cost-effective new addition to your home, and you'll love the results.
How can we help?
Start designing your enclosed porch or sunroom today. Contact us at (416) 741-7070 to schedule a free consultation for your home.