Revitalize Your Home's Exterior with Aluminum and Vinyl Siding, Soffit, & Eavestrough
If you're looking for a simple, cost-efficient way to improve your home's value and visual aesthetic, there's no better place to start than with your siding. By upgrading to a state-of-the-art material, you can
instantly get a fresh, modern look while adding a highly functional feature.
Arrow 2000 gives you a simple way to instantly enhance your property's appeal with quality siding, soffit, and eavestrough.
Choose from vinyl and aluminum and enjoy the benefits of a truly next-generation material.
Aluminum and vinyl siding requires minimal maintenance, and it's an excellent long-term investment. Our weather-resistant products don't rust or fade in colour, and they channel rainwater away from your house to prevent flooding and foundation damage. Complete the effect with custom soffit and eavestrough designed for your home and installed by Arrow 2000's knowledgeable experts.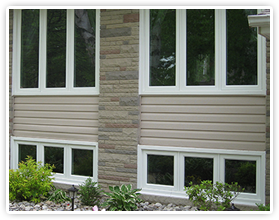 Our products are available in a variety of designer colours. You can add coordinated accessories to complement your home's best features, and our quality craftsmanship provides years of dependable service with gorgeous visuals.



How can we help?
Call us today at (416) 741-7070 to get a quote for your property or visit our showroom to see why Arrow 2000 offers the best siding options for Ontario homes.