Enjoy the Weather With Energy-Efficient Sliding Patio & Garden Doors
You should never waste a beautiful day, and
Arrow 2000 carries gorgeous sliding doors and swing-in garden doors to help you enjoy every part of your property.
Our sliding patio and garden doors feature modern, energy-efficient technology. They're designed to keep your home at a steady, comfortable temperature while creating an inviting point of entry, and they're a functional improvement for any type of property.
Choose from a variety of styles and hardware options for a door that fits your home's character.
Features of our Sliding Doors include:
Functional Kicklocks & Multi-Point Locks
Anti-Lift Bumpers
V-Grooves and Etched Glass
Internal Mini-Blinds and More
Features of our Garden Doors include:
Vinyl Cladded Exterior Frames
Variety of Hardware Options
Decorative Glass
Internal Mini-Blinds and More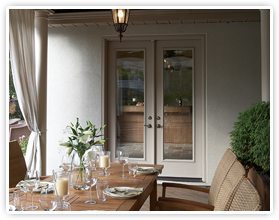 With reliable security options, carefully balanced aesthetics and premium energy-efficient materials, our door and window systems are always a smart investment. They're also an excellent way to get more from an underused garden or yard.
Arrow 2000's design team can help you find the perfect garden and patio door for any property. We guide you through every step of the process, giving you the resources you need to find an elegant, beautiful door that fits within your design goals and budget.
How can we help?
Call us today at (416) 741-7070 to discuss options or visit our showroom to view our designs.