Spend Less Time Maintaining Your Porch with Lightweight Aluminum Railings
Steel railings require ongoing care, and even when you clean and paint them on a regular basis they're often susceptible to rust. Aluminum offers a number of advantages;
it's visually attractive, safe, and virtually maintenance free,
particularly when constructed with modern methods.
Arrow 2000 can help you choose the right railings to add a beautiful touch to your home.
We carry a line of high-quality products made from the best available aluminum, and while our railings are exceptionally lightweight, they're also unbelievably strong and durable.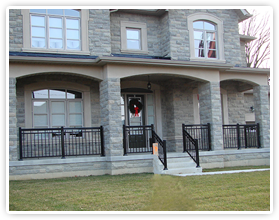 Our design team will provide you with an accurate quote for your home and show you how aluminum railings can improve your property value while saving you time and cutting your annual maintenance costs. We take pride in our results, and the quality of our products speaks for itself; Arrow 2000's aluminum railings feature clean, modern lines and quality craftsmanship, and they're perfectly suited for porches and decks. You'll wonder why you ever settled for steel or wood, and you'll enjoy a safer, better-looking home.
How can we help?
Don't wait to get started. Call us today at (416) 741-7070 to discuss options or to schedule a consultation.