Invest in Insulated Garage Doors with Exceptional Craftsmanship from Arrow 2000
What are you spending on your home's garage?
If you haven't insulated properly, there's a good chance that you're losing a tremendous amount of heat. Standard garage doors aren't built to insulate, and home energy bills often suffer as a result of lackluster construction and mediocre materials.
Arrow 2000 offers excellent polyurethane-insulated garage doors for all types of homes. Our doors improve your home's energy efficiency, significantly reducing your annual expenses while providing an aesthetically pleasing improvement for your property.
Your garage door is a fundamental part of your home's exterior design, and we utilize our 50 years of industry experience to bring you an array of colour and style options. Choose from high-quality steel doors, then browse through our designs to find a door that matches your home's aesthetic.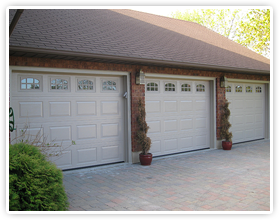 Our teams can help you find an appropriate door for any property. We even offer an attractive wood grain finish, and all of our products offer exceptional durability for a superior overall value. The end result is an elegant, beautiful garage with state-of-the-art insulation and masterful craftsmanship.


How can we help?
Call us today at (416) 741-7070 to set up a free consultation.