Get More from the Outdoors with Aluminum Awnings & Insulated Roofs
Sitting on your porch and enjoying a cup of coffee can be one of life's greatest pleasures, but rain can quickly send you back indoors. With awnings and insulated roofs from Arrow 2000,
you can add the perfect finishing touch to all of your home's entrances.
Create a carport to protect your vehicle or a sheltered porch for outdoor entertaining.
Arrow 2000 can customize your awning or roof to fit with the rest of your property, and our flexible colour options give you complete control over the project.
Features of our awnings and roofs include: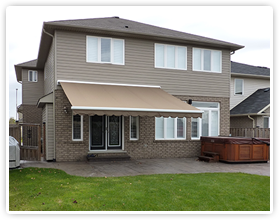 Comfortable Options for Shaded Summers and Comfortable Winters
Designer Colours and Styles to Match Existing Brickwork or Siding
Awnings with Superior Durability and a Lightweight Design
Easy to Clean and Virtually Maintenance Free
Roofs with Integrated Glass and Other Advanced Features
How can we help?
Whether you want to put up a simple aluminum awning or you want to extend your property's existing roof line, Arrow 2000 is ready to help. We have more than 50 years of experience in the industry, and our team can provide the assistance you need to get beautiful results. Call us today at (416) 741-7070 to schedule a consultation for your home.